Advancing Continuing Education (ACE)
As many colleges and universities adapt to the ongoing demand for Continuing Education courses, many have struggled to find a fast, easy, and user-friendly way for students to admit, enroll, and pay for courses online. Today's students demand intuitive, efficient, and feature-rich technology to conduct their educational needs.
MIS, Inc. has advanced the architecture of the PeopleSoft Campus Solutions system to meet the growing demand for a Continuing Education offering, providing colleges and universities a simplified mechanism to support the life cycle from admit to pay for Continuing Education course offerings.
The Continuing Education process works in a single flow of Admit, Enroll, and Pay. This process was created as a bolt-on, using PeopleTools, which utilizes the delivered functionality without altering the underlying table structure.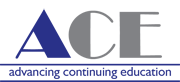 ACE PDF